Lived out a childhood dream with a Daisy Duke themed photoshoot for Pro Rider magazine!
Pro Rider called me up and asked to feature my set up as their "Rig of the Month"! I got to do a fun photoshoot with Ashton Robinson for the magazine.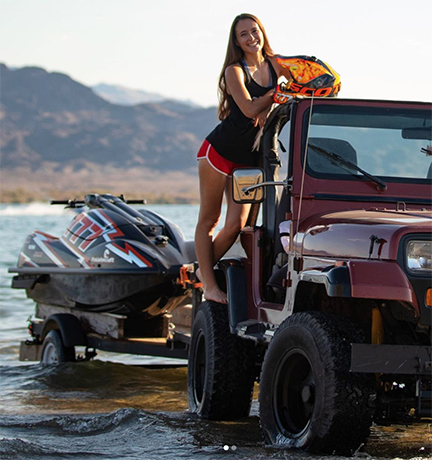 For my family, the Dukes of Hazzard was like our Saturday morning cartoons. I grew up watching the show with my dad and mobbing around back roads in several different Jeeps. I've always loved the old Jeeps (mainly because of Daisy Duke) but it wasn't practical for a daily driver when I was travelling around the country for work. I recently moved to Lake Havasu to run operations for Pro Watercraft, giving me the opportunity to ride Jet Skis year-round. So I bought myself a new ski and my very own Jeep as a reward for working my butt off for a while now.

I got the Jeep for a good deal and it had a few fun issues I had to work through, but it was awesome to have my own "project car" that I've wanted since I was a kid. I did a lot of clean up on it, replaced a cracked solenoid, some sketchy wiring, hoses, etc and it runs great. Added the custom mats and seat covers and got a radio for some tunes. 
I've had the trailer longer than the Jeep, and when I moved to Havasu I set it up to haul my dirtbike and my standup at the same time. I have a removable wheel lock that I can take on/off if I want to take the bike out somewhere. Once I started using the trailer in Havasu everyday I decided to give it a tune up so it would be just as cool as the Jeep. Boss Man helped me deck it in and Derrick Kemnitz and I got it painted up and added some slider bunks for my ginormous 1500. 
It's an awesome set up, and I'm really proud to have it, thankful for the help I got to spruce it up, and proud of my work to make it happen! Living in Havasu and riding almost every day has been such a blessing. I'm driving this rig home at the end of every day with a huge smile on my face. 
Make sure you check out the full article in their next issue!