FROM SHIT TO LIT — Suzuki RM 85 Build Sheet
It's finally done! The legendary Craigslist Special is now a proper dirt bike. My RM 85 was a messy frankenbike when we got it, but now it looks like a sweet ride – and runs good too! I wanted to give you guys a breakdown of everything that went into this build. After a long process, we completely rebuilt this bike on a budget, and with some help from some of my friends in the industry.
THE BACKSTORY
Christmas morning, 2017, I get one or two gifts from mom and dad. My little sister gets tons. I'm a little bummed. As we finish up and throw the wrapping paper away, I hear the sound of angry bees coming from the garage… I swing the door open, and the Boss Man is kick starting a Suzuki. My first dirt bike!
This bike was a craigslist find my dad stumbled upon. After buying it, he hid it in the garage right under my nose for a few months before "putting it under the tree". With everything we do throughout the year with Jet Ski races, and me travelling for work/school, I only got to ride it a handful of times, and we never had the time to go through out (we have 12 Jet Skis!!).
After moving to Reno to work at Galfer USA, my dad drove the bike out and dropped it off. Golden Bear Wrench decided it needed a makeover. So did I.
So I called up all my friends I made at Supercross and told them about my sad little dirt bike.
It was caked in mud, crud, and grease. When riding it, I couldn't find gears or I would skip over them. A lot of pieces were broke, missing, or just plain wrong…. And did you see that radiator??
Thankfully, my friends jumped in to help, and great products started showing up at my door to take this bike from shit… to LIT.
---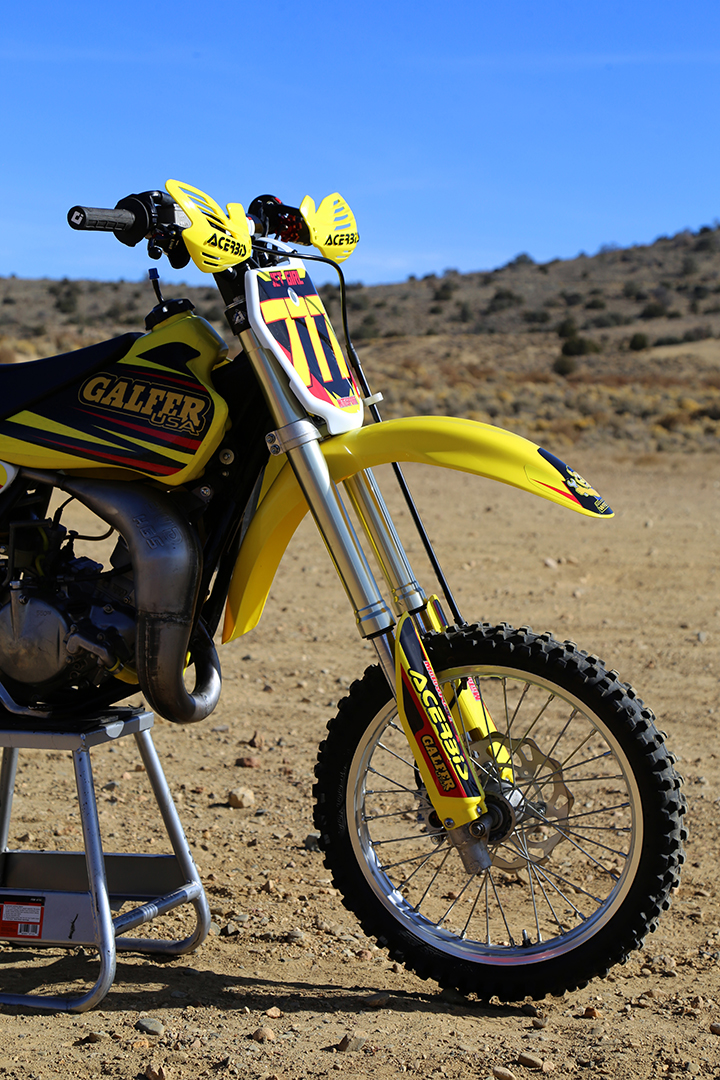 GALFER USA BRAKING SYSTEM
This dirt bike was still running the stock brakes on it. Rotors, pads AND LINES.
These definitely had expired. They were cracked and spongey.
To improve the braking system on this bike, we installed brand new Galfer USA laser cut, 420 virgin stainless steel brake rotors, Sintered brake pads, and stainless-steel braided brake lines.
Galfer USA  can produce custom brake lines in-house, so we built the lines in black, and used red bolts and banjos to help the lines match the rest of the bike.
These upgrades drastically increased my braking power. The old brakes were definitely worn out, and felt soft. I know have a dependable and strong lever feel at my fingertips.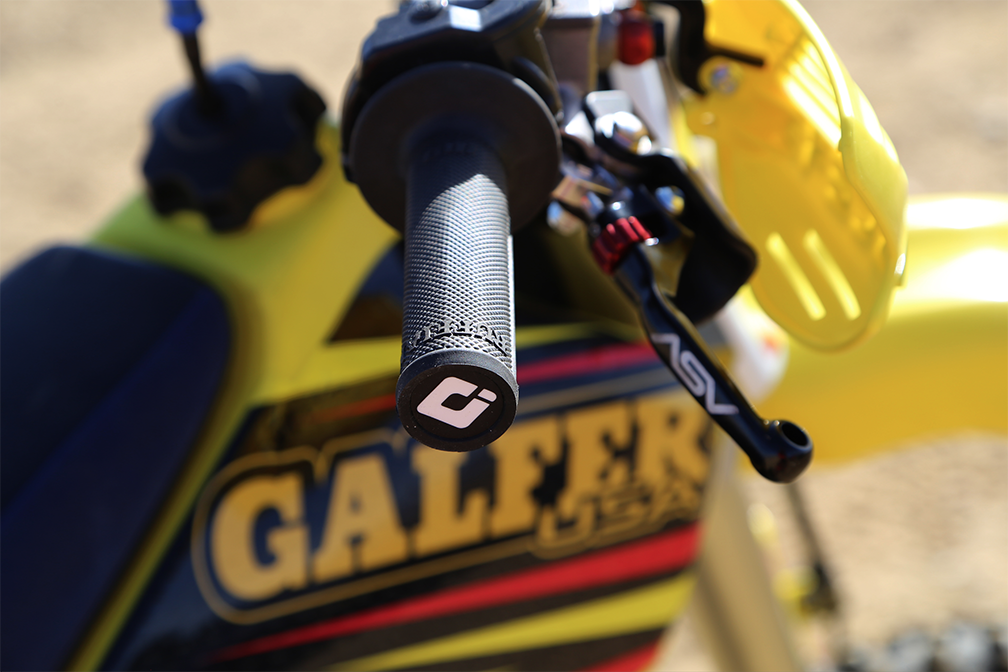 ASV INVENTIONS LEVERS
Going along with brakes and clutch, the levers on this bike were thrashed. They were super loose and wobbly, and honestly felt like they could come loose! ASV Inventions had both clutch and brake levers in the right color (black and red) to go perfect on this bike. The coolest thing about these is that they're breakaway levers, so if I happen to crash, I won't have to worry about bent levers.
These levers are also adjustable, and work great for hands of all sizes. Including my tiny girl hands!
You can shop ASV Inventions line of levers here.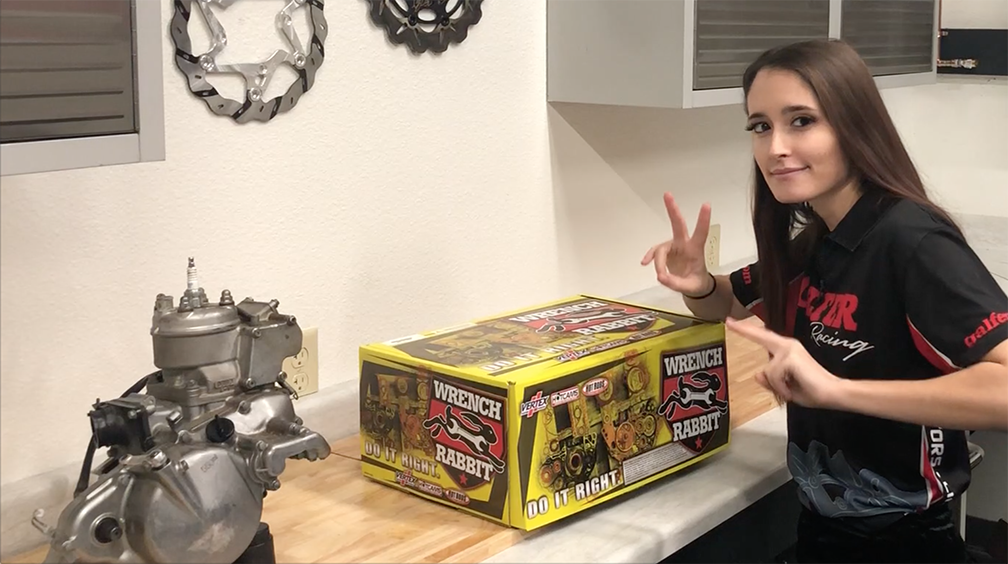 WRENCH RABBIT REBUILD KIT
Wrench Rabbit really came THRU! The Wrench Rabbit Rebuild Kit carried this project to the finish line. This kit came with literally everything we needed to replace when it came down to the motor. The big items – crank, piston, seals, etc. And some of the smaller items like fork seals, water pump seals….. Everything was wrapped up in one beautiful box. It's all high-quality product too, coming from our friends at Vertex Pistons, Hot Rods, Pivot Works and All Balls Racing. You can order a Wrench Rabbit rebuild kit for a variety of bikes here.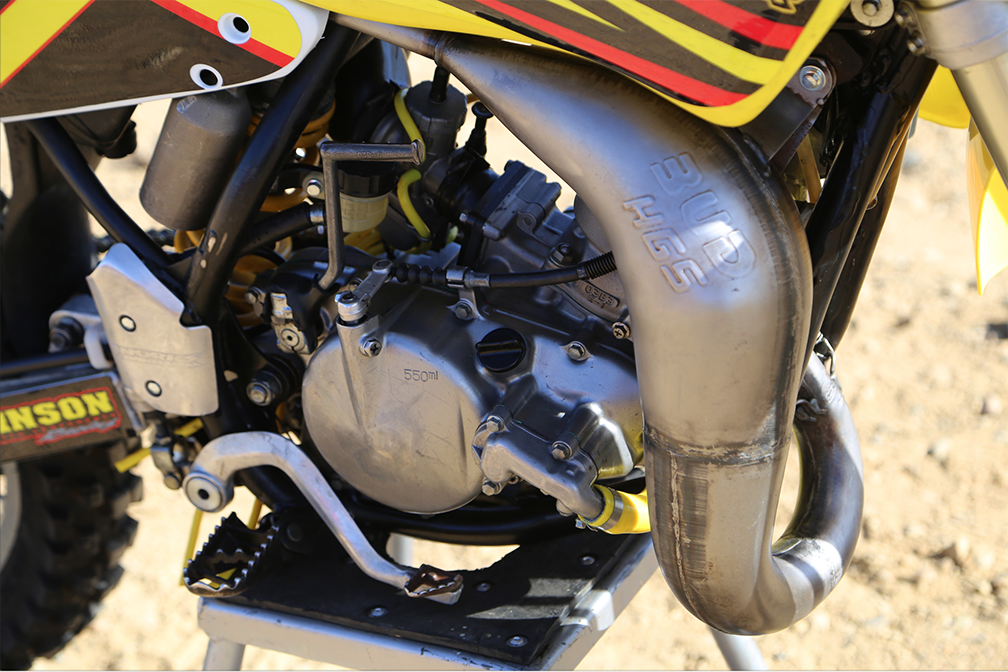 HINSON RACING CLUTCH KIT
Like I mentioned, this bike's clutch had seen better days. When riding, I had a hell of a time finding neutral, or I would shift for second and end up in 4th. It wasn't fun.
After opening the clutch up, we found the teeth to be chewed up (some were missing) and overall it was in bad shape.
We installed a Hinson Racing clutch kit for the RM 85 and now the clutch is on point. This kit had all the pieces we needed to make an easy swap.
DDC Racing Sprocket / Chain
The sprocket on this bike was likely the OEM original, and the chain was chewed up and greasy. Rather than replace it, I called up DDC Racing – because they're local to Reno! Nate Delaney stopped by Galfer USA to drop the products off and give me a run down. The Beta Titanium sprocket is heavy duty, and went on easy. And it's so nice to have a chain that doesn't look like a dirty rope! DDC has a big variety of sprockets for all kinds of bikes, check it out here!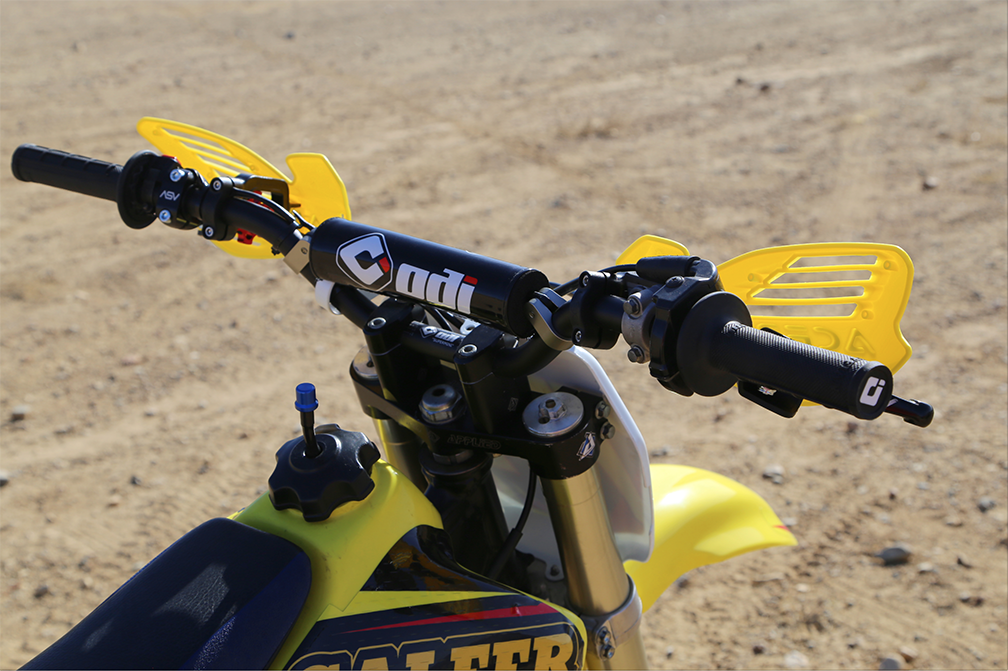 ODI BARS / GRIPS
You know what PlayDough feels like? That's what my original grips felt like. Gross.
ODI came through with new handle bars and grips for this bike. For my bike, I went with the Ruffian style. This is the same style of grips I use on my Jet Ski! They're easy to grip and were also easy to install. The handle bars also came with a nice bar pad – which just happened to match the rest of the color scheme. ODI has grips and bars for all kinds of rides — even Jet Skis — be sure to shop their options here.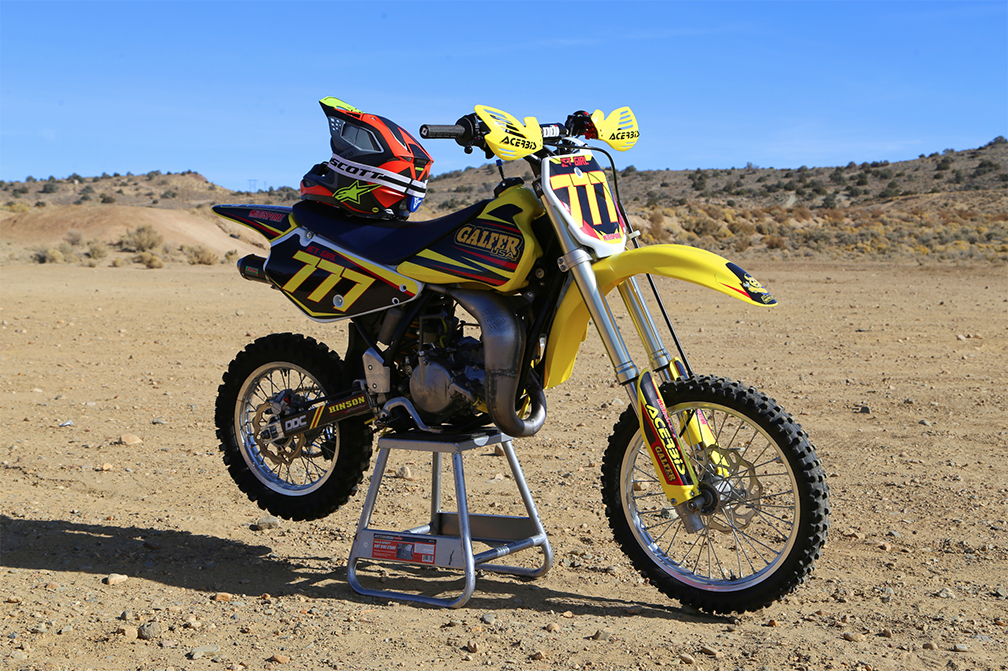 ACERBIS PLASTICS
I want to apologize in advance for all the times I pronounced Acerbis wrong. I was just so hyped on these new plastics!
The original plastics on this bike were odd, we were never able to determine what year the bike was, as it had bits and pieces from different years of the RM85. However, all the plastics on this bike were scraped and beat up. So, I went to the plastic masters. Acerbis sent over their complete kit for the RM85. It had everything I needed other than the gas tank and the fork guards. They even set me up with hand guards for when I go out for some trail rips through the mountains. These plastics were sturdy, and the color pops a lot harder than the worn out graphics we replaced. You can see ALL of Acerbis' plastic options on their website right here.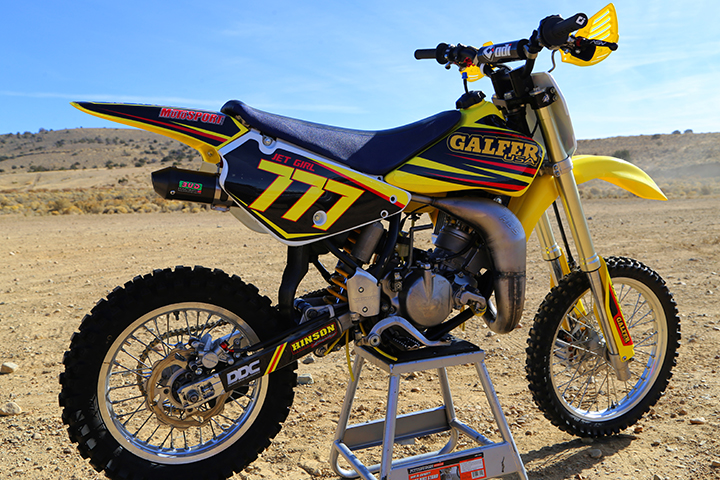 MOTOSPORT GRAPHICS
Our friends at Motosport.com have their own print shop – and helped bring my vision to life! The graphics on this bike were dreamt up and designed by me, and printed by the Motosport.com crew. They did a great job matching the colors and logos I wanted perfectly. And the sticker quality is THICC. You may not have known it — but you can shop graphics from Motosport on their website —> right here.
That's pretty much the run down! This bike had all sorts of fun, basket case problems when we broke it down, and it was a fun first dirt bike build for me to get my hands on. I worked alongside my good buddy Golden Bear Wrench, and he helped me bring this thing back to life. All I can say is —  I love two strokes!
This bike couldn't have come together without the help of all these great brands and a few of my friends. I want to thank Golden Bear Wrench for making sure this project was done right. Galfer USA for letting me store and wrench on my bike in their garage. Wrench Rabbit, Hinson Racing, Galfer USA, ODI, ASV Inventions, Acerbis, DDC Racing, Hot Rods, Vertex Pistons, Pivot Works, All Balls Racing, and Motosport.com for pitching in to help me kit this bike up right. Also Derrick Kemnitz for installing the graphics (he didn't trust me to do it), and my dad for buying me one of my favorite Christmas presents EVER.
I can't wait to get this thing out for a rip and show you guys some footage of it in action. Stay tuned for more SOON!
Be sure to check out the video.