The IJSBA World Finals is hands down the biggest and most prestigious jetski racing event around. In 2016 I won a world championship here that changed my life. Now, it's 2020 and I tackled a new challenge.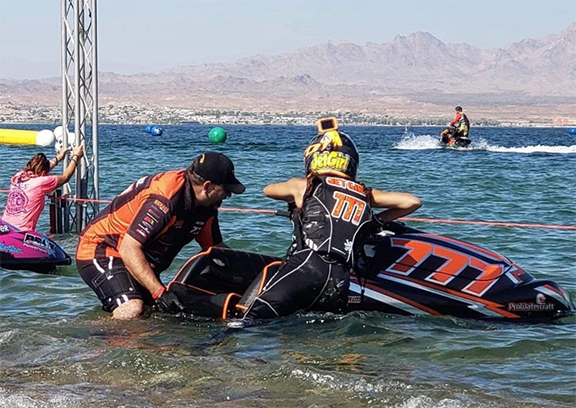 Since the release of the SXR 1500 in 2017, I've been heckled by all sorts of haters about bowing out of the women's class. For years, I raced and loved the two stroke class, and the decision to change the Pro Women's class to a fourstroke class just wasn't my thing, so I raced the mens two stroke class instead. I was bombarded with people heckling me for being a chicken, being too small, not being good enough to handle these "big and fast" machines. But I let it slide, because I wanted to have fun.
In 2020, I moved to Lake Havasu City – the jetski captiol of the world, and figured if I lived here I might as well make a run for the Pro Women's title again.
I picked up an SXR 1500. The biggest stand up watercraft in history. It's about a foot and a half longer and a few hundred pounds heavier than my old race skis. But I was in it for the long run.
I started riding almost every day, and even begged Jeff Jacobs *successfully* to come out of retirement to train me and help me improve.
Even still, people heckled me and told me I didn't stand a chance.
But the joke was on them.
Because we made it on the podium at the World Championships. Racing against Pro Women who have been on the same model of watercraft for three years. Even though we were underpowered, we showed up and showed people what we were made of.
In 2020 we were nervous, a little unprepared, and wildly uncertain. I can't wait for 2021, because now we know what we are capable of!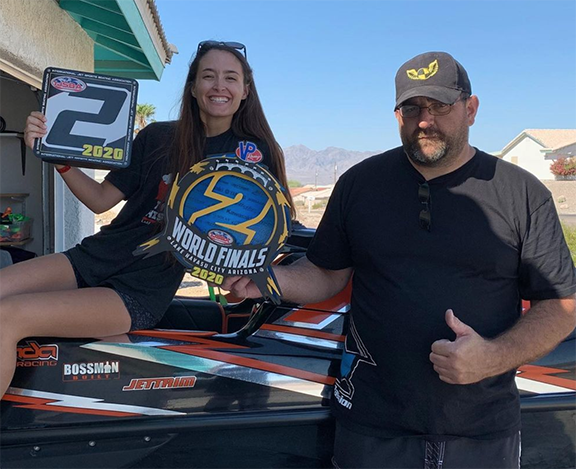 I am so thankful to everyone who came together for me and made my program happen in 2020.
Bossman spinning wrenches, my killer pit crew, my shred coach Jammer, my team at Pro Watercraft and the rest of my sponsors who are ALWAYS ready to get me what I need at the drop of a hat, no questions asked. ADA Racing, quakysense, Works H20 Designs, Cometic Gasket, macsboost, Jettrim, Scott USA, JetRenu, Rad Dudes, Ultra Motorsports, Shades of Gray. I also want to thank Ashton Robinson and Jake Rozelle for being wonderful supporters and training partners, and Jeff Jacobs for training me and teaching me the secrets. I am so grateful for these guys. This one is for the team ❤️ Let's go for 2021!!! 🚀