Since moving to Carson City, NV — I've had a wild summer. I started working with Galfer USA in June, and have been full throttle.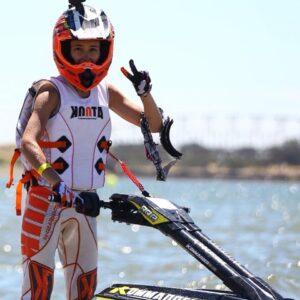 Currently, my skis are still back at the Jet Girls Racing headquarters in Kansas City, so I didn't anticipate doing much racing out on the west coast, but my sponsors proved me wrong!
Thanks to Nut Up Industries, Jet Renu, and Hurricane Industries, I was able to hit up the Camp Far West round of the Jet Jam Racing series. Thanks to the great people in the Jet Ski racing community, I was able to track down a ski to race and Hurricane Industries stood in as my temporary pit crew for the weekend. So, I saddled up on a four-stroke stand up for the first time and lined up against a stack of 15 fast guys.
On  the first day I faired well, grabbing a second place overall. On the second day, I had some technical issues with my ride, and was bouncing back and forth on skis all day — so I didn't end up on the podium, but I got a lot of great laps in.
With every season, my ultimate goal is to win another world championship, so the opportunity to get additional racing experience in is always a plus. This weekend would not have been possible with out the Vaughn family, who loaned me not one, but two skis to race. Jet Renu, who helped cover my trip, the Hieke family who gave me a place to stay, Derrick Kemnitz Jr. from Hurricane Industries for being my pit crew and holder and the rest of my sponsors and support team: Nut Up Industries, ADA Racing, quakysense, Fly Racing, Gasket Technology, My Oil Depot, Pro Watercraft Racing, Works H20 Designs and the Rad Dudes.