This week, I headed out to my "hometown" Monster Energy Supercross race in St. Louis, Missouri.
As the media manager for the TPJ Fly Racing team, I got the chance to be a part of some really cool events this weekend at the races.
Our time at the races kicks off early in the week with press early on Thursday. I helped line up some cool opportunities for our guys. You might've seen TPJ Racing rider Tyler Enticknap teach a news reporter how to ride a dirtbike — that was our 4:30am fun on Thursday.
Friday, we had the pleasure of meeting a thousand fans at the BIG St. Charles Motorsports autograph party. This is always an incredible experience. Our riders love meeting and hanging out with the dedicated Supercross fans who wait hours to get an autographed poster.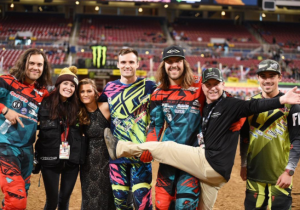 On game day, we had some special events planned. Adam Enticknap (the 7deucedeuce) was part of a surprise marriage proposal on the Supercross podium, and we brought prom to Supercross for a young lady who didn't get to attend her own prom. It's times like this, where I get to help orchestrate something that means so much to people — that all the work is worth it!
After yet another weekend away at the races, I am now home and back to work! We are closing in on the final month of school and I am more slammed than ever with projects and exams, but like always, I am making it happen.
Oh, and I'm training toward another world championship.