I got the opportunity to fly home to Kansas City this weekend and race on my own ski just thirty minutes outside of my home town — so you know I went for the win!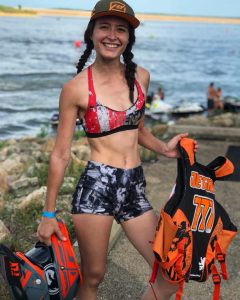 I lined up this weekend in the Women's Ski "Open" class to do battle against a full gate of fast girls — some of them were even running 1100cc three-cylinder two strokes. My little fire breathing 2-cylinder two stroke and I were able to win every moto of both rounds. It wasn't easy, the 1100cc skis had more top end out of the gate, so I had to fight with them through the split technical section and managed to out ride the competition to take the win.
I was really thankful for the chance to come home and visit my family, and have a race where we were all together. I was even fortunate enough to have friends visit and watch the races! This weekend wouldn't have been possible without the support of Galfer USA, and my racing sponsors: Nut Up Industries, Jet Renu, ADA Racing, quakysense, Fly Racing, Pro Watercraft Racing, Hurricane Industries, Gasket Technology, Works H20 Designs and the Rad Dudes.