My family and I travelled hundreds of miles to compete in the Can-Am Watercross Canadian Nationals in Belle River, Ontario. This was my first race of the season, and my team put in countless hours of work making sure I had everything I needed to be ready for the stiff competition.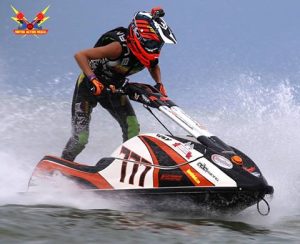 After nearly grabbing a world championship last season, our sole focus has been on progression — machine and athlete. This race was the first chance for me to gauge our progress and take notes on direction. I competed in Women's Ski Limited, and took on the additional task of racing the boys in the Ski Stock class. Gnarly water conditions made for an interesting weekend of racing, but things went soothly and came together nicely for the team. I was able to win both Women's Ski Limited and Ski Stock, taking home two Canadian National championship titles, and my younger sister Jessie took second overall in a stacked juniors class.
With only one week between Canadian nationals and the next round of racing, we have had only a little time to evaluate and apply changes to our strategy. I am feeling in sync with both machines and my team, so I am looking forward to the next round and hoping to bring home more good results.
After the next round, I will be returning to school and attending the final three rounds of Lucas Oil Pro Motocross with the TPJ Fly Racing Suzuki professional motocross team.